The torsional behaviour of Lang's lay triangular strand ropes will probably limit their application in ultra deep (2500 m - 4000 m) single lift shafts. These ropes have traditionally been used on the majority of South African drum winding systems and it would be beneficial if their application could be extended as far as possible. An improved understanding of the macroscopic factors which may lead to construction instability is however required. The objective of this study has been the determination and verification of a model to predict the static torsional behaviour of triangular strand ropes operating on drum winders. Rope lay length changes at installation; alterations in lay length with service period; rope rotation during conveyance loading and equilibrium rope torques were the primary variables of interest.

A wire rope tension-torsion testing machine has been developed for conducting tests under constant twist, load and torque conditions. The relationship between load and torque, for constant twists, is used to determine the in-service lay length distributions.

It has been found that the lay length at which a rope is manufactured significantly affects the in-shaft boundary conditions in the lay length analysis. Correct lay length distributions values, in the suspended rope section, are a prerequisite for the rotation calculations. The rotation analysis takes into account changes in rope torsional stiffness resulting from the no-slip to slip transition, between the rope wires, associated with twist displacements. This varying torsional stiffness characteristic is a function of the rope load and state of twisting (lay length). The hysteresis response during constant load tests, constitutes a first order effect, but it has been ignored in previous attempts at calculating in-service rope rotation. Consequently, far more rotations were forecast than is actually the case. With the new model, rope lay length and rotation predictions compare favourably with actual measured behaviour in existing shafts.

The results of in-service lay length and rope rotation measurements, conducted in shafts up to 2500 m deep, are also presented. Parameters which have the greatest influence on the torsional behaviour of triangular strand ropes in vertical shafts have been identified and recommendations are made on how the depth limit of application for these ropes may be extended.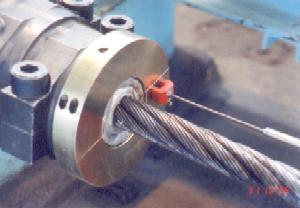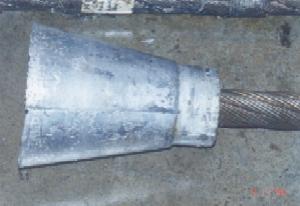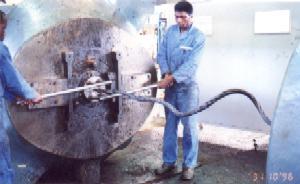 Download 328 Page PDF Zip Archive (8381 kB)